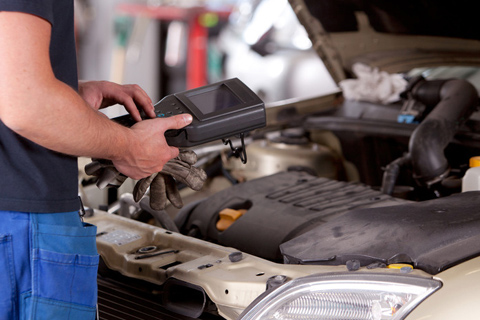 ENGINE DIAGNOSTICS
State-of-the-Art Engine Diagnostics in Bellevue
Being able to trust an automotive repair shop in Bellevue to provide you with comprehensive, precise diagnostics regarding your vehicle can save you time, money and frustration when it comes to repairs. Knowing exactly where the problem is located, what's at fault and what needs to be done to remedy it is invaluable.
At Eastside German Motors, LLC, we're proud to have extensive capabilities when it comes to engine diagnostics testing in Bellevue. Whether your "check engine" light keeps flashing on and off or you've noticed a marked decline in your vehicle's performance, our state-of-the-art diagnostic technologies and vast experience with engine diagnostics will help you get to the bottom of your troubles, fast.
What Engine Diagnostics Can Mean
Engine diagnostics can be used in a wide variety of capacities, to provide you with critical information that can be applied to the care and maintenance of your engine and all of its individual components. From error codes that describe a specific type of problem—such as an oxygen sensor malfunction—to data regarding performance levels that can be used to trace problems back to specific parts, engine diagnostics in Bellevue are encompassing.
But good diagnostics are nothing without skilled, highly-trained employees interpreting them. Without someone to interpret an error code or realize the area of a malfunction, your vehicle isn't going to get the care it needs.
Every member of the Eastside German Motors, LLC staff is expertly trained to run and interpret diagnostics, to make sure the reparative approach we take to your vehicle is the correct one. This saves our customers time and money, and helps to extend the life of their vehicles.
Vehicles we Diagnose:
Instead of just providing a run-of-the-mill diagnosis to vehicles based on general data, Eastside German Motors, LLC takes a refined approach to quantifying and qualifying diagnostics as they apply to German-specific vehicle brands. As a result, we can expertly run diagnostics on:
Porsche
Mini Cooper
Volkswagen
If you're having issues with your vehicle and can't seem to get to the bottom of it, consider engine diagnostics. Contact the professionals at Eastside German Motors, LLC today to schedule an appointment for engine diagnostics testing in Bellevue—we're available at 425-296-6000.